Bracelets by Slossy
Enjoy browsing this wonderful assortment of bracelets.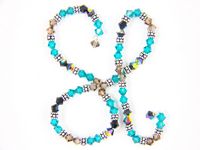 The Slossy Slide stretch bracelet is now being worn by thousands of fabulous women!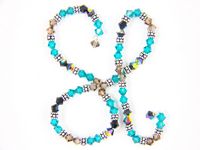 Display is showing an assortment of Slossy Slide stretch bracelets.
The Slossy Slide stretch bracelet, and ALL of the Slossy stretch bracelets, are made of this amazing stretch material. Slossy had to research many different elastics to find the very best. Slossy stretch bracelets are super easy to put on and take off. There is no hardware (toggle, clasp, etc.) to close and this adds to the popularity of these amazing bracelets. Women who have a difficult time putting on or taking off bracelets - this is the bracelet for you. For the fashion-forward, stylish, quick-on-the-go female - these bracelets are absolutely perfect - just grab them and put them on while walking out the door! No matter your age, these bracelets are a huge hit. Be sure to give them a try. Buy one, five or more - you won't be disappointed!